Passive parameters at synchronous generator configuration menu
Hello,
I am configuring IEEE 9 bus system with synchronous generator model according to shared parameters of modified system from another simulation program. However I was not able to modify all parameters of synchonous machine, some of them seems to be inactive (see enclosed figure).
Is there any way that i can modify these parameters?
Or is there any existing model of 9 bus system with machine models that you can share?
Thank you.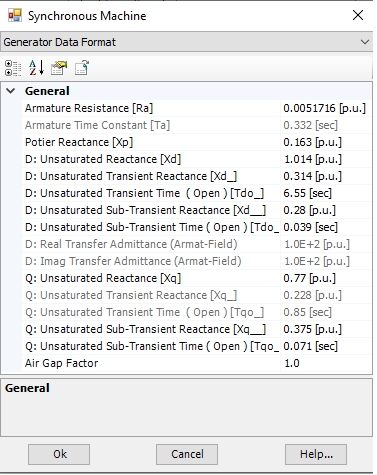 Status:
Open
Jul 21, 2020 - 12:01 AM
synchronous machine, IEEE 9 bus, TRANSIENT STABILITY
---
1

answer
Answers

Aug 19, 2020 - 11:33 PM
It depends on the machine definition as a salient or non-salient pole.
Answer this question
Other Questions Needing Answers