I have "undefined defintion" warning in a new component
Hello.
I created a new component in component wizard. Then i created instance, and put the component in the main project. It works fine, but have a warning "undefined defintion".
And when i restart PSCAD the component in the main project dissappears, leaving only red square (pic.1).
I right click at the component, go to "resource link" and then it appears again. But the warning still remains. And the program is not working well: when i change properties of the component, result is not changing sometimes.
Please, help me,
H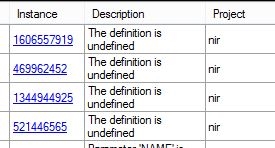 appy new year.
Status:
Open
Dec 31, 2019 - 07:15 PM
Undefined defintion, component wizard
---
0
Answers
This question has not yet been answered.
Answer this question
Other Questions Needing Answers