Trouble getting simulation results to match calculated results
So lately I've been trying to get a grapple on PSCAD to begin some research and I was given a simple 6 bus system with some solutions on the fault analysis for a 3 phase and single phase-ground fault. I worked through and developed a matlab code that MATCHES the solution given (1412<-81.5 Amps).
But when I develop the system in PSCAD and simulate the fault I cannot get the fault to match up.
I keep getting around 2160<-69.4 Amps.
I've gotten the powerflow to match up within a few percent of the actual power flow. I've triple checked or more all of my impedances.
Here are some pictures of the system.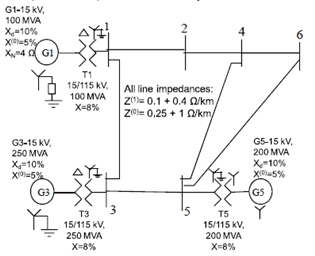 I've been scratching my head for weeks now. I've triple checked everything and I can't for the life of me figure out why it's not matching up. My line impedances are correct. My generator and Transformer impedances are correct. My load flow is matching up. I've been throwing solutions at a wall to see if anything sticks but I can't get anything to give me the solution I want. So I've come here to hopefully get some help. I've attached my PSCAD file as well as the load flow and fault analysis solutions.
Part 1 results are the load flow solutions. Part 2 results are the fault analysis solutions.
If you have any further questions or suggestions please feel free to ask/comment.
Status:
Open
Aug 26, 2019 - 09:24 AM
PSCAD, 6 bus, Single Line to Ground
---
0
Answers
This question has not yet been answered.
Answer this question
Other Questions Needing Answers