Log-in error
Hi,
I have registered to the website with the login ID jinmyeong95.
This ID works well in the website, but this ID seems quite problemetic to the program.
As you can see, i am well logged in this website.
However when I try to log in to the program I downladed with the same ID, it showed the message as below.
I am wondering if i should recreate ID without any number character.
Please help!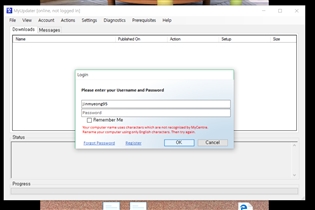 Status:
Open
Jul 11, 2019 - 09:59 PM
---
1

answer
Answers

Feb 03, 2020 - 12:26 PM
Try your full email?
Answer this question
Other Questions Needing Answers