Stuck up while Installing the free version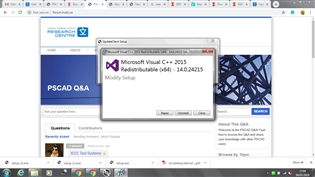 Hi, I have been having some trouble with installing the free version of PSCAD on my system. After I downloaded the setup.exe file, I get a message box while installing the Visual C++ saying 'Modify Setup' with three options, namely, 'Repair, Uninstall and Close'. I am unsure of how to continue further. Please help me in this regard.
Status:
Open
Jul 07, 2019 - 11:08 PM
---
0
Answers
This question has not yet been answered.
Answer this question
Other Questions Needing Answers