Synchronous machine rated line current
Hi there,
Can anyone provide a formula on how to calculate the rated RMS line current for an 115.5 MVA, 11.5 kV synchronous machine?
This sounds like a basic question. I calculate the line to neutral voltage as 11.5 / (sqrt(2) = 6.64 kV and then the line current as
115.5M / 6.64k / 3 = 5.799 kA (I hope this is correct!). The problem I have is that when I enter these values into the machine basic data, the steady state P and Q values which are produced by the output variables from the sync machine model are significantly different to the values I get from a multimeter which is on the machine terminals. This suggests that the base values used in the machine are off, since the machine reactances are in per unit but the base is unclear.

Is there something I am missing?

Thanks in advance,
Patrick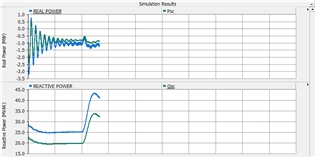 Status:
Open
Feb 19, 2019 - 10:06 AM
---
0
Answers
This question has not yet been answered.
Answer this question
Other Questions Needing Answers