Dou you know why MPPT voltage starts from under 0 ? I attached the solar array and Voc Isc values and output graph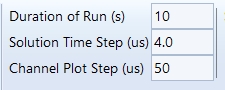 I find the values of Voc and Isc values but the graph always starts from under 0 even if i chane the values of Voc and Isc. Also I found the pscad example very similar to this model, I tried to do simulation with examples' parameters but again its started from under 0. How can I fix this ??
Status:
Open
Nov 06, 2018 - 04:18 AM
mppt, solar system, Isc, Voc, short circuit current, open circuit voltage
---
0
Answers
This question has not yet been answered.
Answer this question
Other Questions Needing Answers