I need to fix 3 number of Online Tap changers at 3 no. of 132/33 kV, 31.5 MVA Transformers.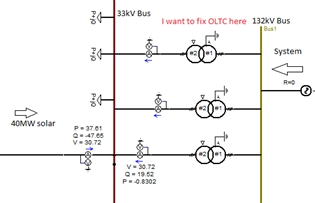 I need to arrange 3 no. of OLTCs on this 3 power transformers.
Please be kind enough to give your valuble knowledge in this regards.Finally I want to check the voltage stability on 33 kV bus with the Integration of 40MW Pv solar power. Then I will be able to see which PV penetration level violate the permit voltage limit on 33 kV bus with the variation of solar irradiance.
Thank you Very much all.
Status:
Open
Oct 23, 2018 - 05:48 PM
---
0
Answers
This question has not yet been answered.
Answer this question
Other Questions Needing Answers