I'm trying to build 3phase thyristor controlled rectifier. I have problems with firesignal/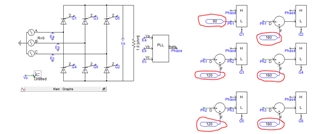 I'm trying to simulate this rectifier [Basic and simple]. For some reason, this isn't working as I need to. The g1 fire signal producer angle is the main one. g2 is 180 deg. behind g1. g4 is 180 behind g3. g6 is 180 behind g5.
my guess is I'm not using the right thing for these angles. anyone knows what component I should use? or if the problem is something else, anyone knows how I can solve it?
Status:
Open
Oct 11, 2018 - 03:58 AM
pscad 4.5, rectifier, Power Electronics
---
1

answer
Answers

Answer this question
Other Questions Needing Answers