Transformer problem
Hi
I want to simulate flux coupling fault current limiter which is is mainly composed of a coupling transformer (CT), a controlled switch S1 (figure_a). In a normal (no fault) condition, the switch S1 is closed and After the fault happens, S1 will be opened rapidly and second winding #2 is in circuit.
I used "Single Phase Transformer Models" which was in PSCAD library.
the transformer ratio is 1 and voltage system is 20 Kv, Zs=1+i3.14, Sload=4 Mw.
I selected transforner MVA = 30 and RMS voltage #1,2 = 20 Kv, leakage reactance = 0.01 pu (0.133 ohm) but when switch opens, the current falls to zero and I dont know how to fix it plz help me.
I attach my file for you guys to run it and guide me.
Thank you
my email: Dimo.55.kh@gmail.com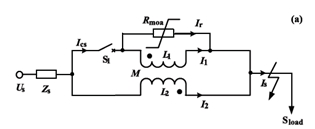 Status:
Open
Aug 10, 2018 - 07:27 AM
transformer, fault current control, fault current limiter, model transformer, model, Modelling in PSCAD, fault Studies, fault
---
0
Answers
This question has not yet been answered.
Answer this question
Other Questions Needing Answers