Full Birdge Submodule based HVDC. Losses more in inverter or rectifier?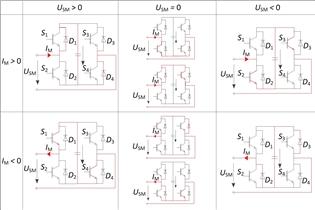 Hi,
Given above possible conduction modes of a full bridge submodule. Could someone clarify that in which mode (inverter or rectifier) do we expect more losses to occur? or do we expect them to be equal? kindly explain slightly in detail please.
Status:
Open
May 14, 2017 - 08:11 AM
HVDC, fb, sm, VSC, MMC, losses
---
0
Answers
This question has not yet been answered.
Answer this question
Other Questions Needing Answers