Need more detail for solar PV simulation ,I have download the example in PSCAD website.
I have download the exzmple in PSCAD website,want to learn more about solar PV simulation.It's this example :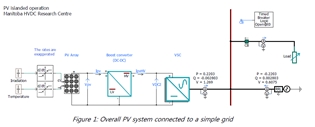 B
ut i can not understand some detail in this case. Such as the choice of the parameter for DC/DC converter and DC/AC converter.If i want to use this DC/DC and DC/AC module for another PV , which parameter i need to change?
Cound someone recommend some books or papers?
It is best to relate to the example.So i can learn more detail.
Thanks for your help!
Status:
Open
Feb 15, 2017 - 01:25 AM
---
0
Answers
This question has not yet been answered.
Answer this question
Other Questions Needing Answers