Issues Interfacing PSCAD to C Language Source
Hello,
I am having some dificulties interfacing PSCAD 4.4.0 Educational Version (using GFortran 4.2.1 compiler) with a
subroutine
witten in C language.
I have created a block with Integer type input and output and when testing example 9-14 (attached below) the output always remains 0 (zero). Meanwhile when calling a
function
in C (same as example 9-15) works acording to expectations.
Has anyone encountered the same problem and succesfuly solved it?
Thanks,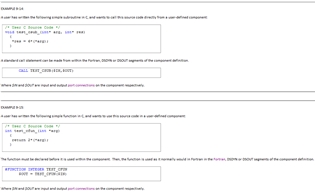 Status:
Open
Mar 14, 2016 - 01:37 PM
---
0
Answers
This question has not yet been answered.
Answer this question
Other Questions Needing Answers