Answers

Oct 24, 2015 - 09:41 AM
Hi there;
Please see the model of Lightning Current Generator in "Modeling Lightning Performance of Transmission Systems Using PSCAD"
http://ieeexplore.ieee.org.proxy.lib....
and also see the picture below
https://hvdc.ca/uploads/ck/files/Puls...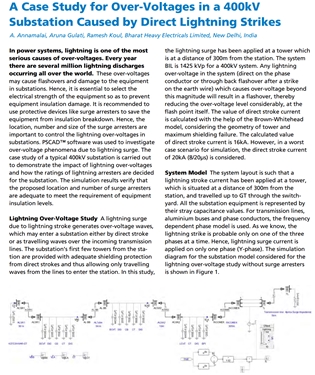 Regards
Hasan
---

Nov 03, 2015 - 07:22 AM
Dear
msaqib

Attached is an example of substation lightning coordination.
This example is loosely base on the special publichation IEEE TP-133-0 Section 5 on Lightning coordination. This example demonstrates methods in PSCAD to construct a basic lightning coordination case. With appropriate parameters, the case can be reused for many studies.
Best regards,
Ali
Ali Akbarzadeh niaki
ali4niaki@gmail.com || niaki.blog.ir
Source: Paul Wilson, Manitoba HVDC Research Centre, 2010