Answers

May 03, 2015 - 06:57 AM
Hi dear
neba3939
,
I wellcom you to the world of PSCAD :)
The
synchronous condenser example of PSCAD consists of a
synchronous machine model that has following input parameters:
1)Tm: is
a mechanical torque may be applied to our machine model, in our case it should be a zero, because of the
condenser must be operated on no load conditions.
2)Ef: is a
field voltage applied directly to our machine model by exciter model.
machine initialization switch performed by "Single Input Comparator" & "Simulation Time" blocks. During the initialization period (0) the exciter will use short time constants and then switch to regular time constants when the machine rotor is released.
At the end, we see the additional objects such as online plots for monitoring the outputs signals and a three phase cicuite breaker for adding inductance at 1.5 s.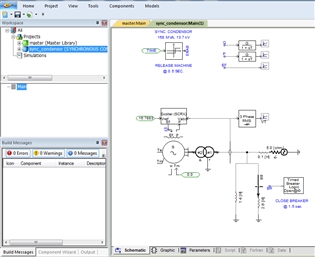 click on image to enlarge
Best regards,
Former
N!4K! :)
Source: PSCAD Online Help