phase angle
how to calculate the phase angle difference
Status:
Open
Jan 06, 2015 - 11:19 PM
---
6

answers
Answers

Jan 07, 2015 - 04:25 AM
Dear N!4k!, Thank you for your help. I try to use that component but it only produce 0 or 1 and give non-zero output (1) only when two inputs are of opposite signs. I got confuse when it produce 1 but there is no opposite sign between these two input as shown at the below. You can check at t= 1.514.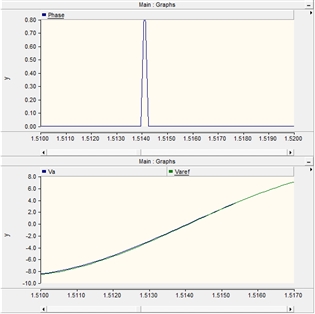 I try to use another component called "Phase Difference". But I don't how it calculate and produce the phase angle difference signal. I try to calculate manually using the formula given but it didn't give the same answer.
The formula I used as follow.


I'm really hope that you can help me to solve this problem. Thank you very much
---

Jan 07, 2015 - 06:41 AM
Dear mosba86,
The output of "XOR Phase Difference" component varies between -1 and +1 and must be smoothed in order to obtain a meaningful result. To convert to degrees, multiply by "180°" and to convert to radians, multiply by "Pi".
If you have further questions, please let me and other contributors know.


---

Jan 07, 2015 - 06:49 AM
Attached example shows you how to use "XOR Phase Difference" component, may be useful for getting started


Regards,
Ali
---

Jan 07, 2015 - 08:12 PM
N!4k!
,
I try to open the file u give to me but it said "unrecognized file extension".
---

Answer this question
Other Questions Needing Answers