Staff Answer

Sep 26, 2014 - 09:25 AM
Hello
Damper winding is definitely part of the synchronous machine model. See EMTDC Help → Rotating Machines →Basic Machine Theory. The equivalent damper windings mapped onto the direct and quadrature axes are shown below. The synchronous machine parameters such as X' d , X" d , T' d0 , X' q , X" q , T' q0 represent the effect of all of the rotor windings in transient situations.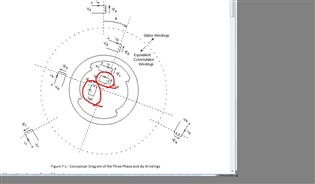 --
George Wai,
Software Support & Development Specialist
Manitoba HVDC Research Centre
a division of Manitoba Hydro International Ltd.
211 Commerce Drive | Winnipeg, Manitoba, Canada R3P 1A3
T +1 204 989 1241 | F+ 1 204 989 1277
support@pscad.com | www.hvdc.ca | www.pscad.com
--